Mothership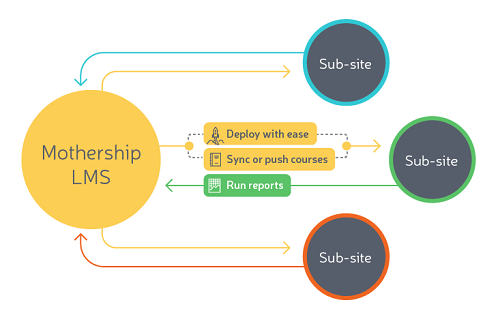 Essentially, the Mothership Project is a high level LMS that doubles as a central course library. Multiple sub-accounts (for each location) are tied to this top level LMS (i.e., the Mothership). Then, via common cartridge import/exports the Mothership LMS exports course cartridges into each sub-account LMS. Additionally, content developed at each individual location can be exported back up to the Mothership LMS. This capability provides clients with a central course library through which they can easily distribute and manage curriculum and associated Learning Outcomes across their multiple locations.
Each location has their own unique LMS site—their own brand/logo etc. There would be no difference for the administrators or users at these second level learning management system sites. The course content is simply controlled at the top level and then synched with the sub-accounts for each location.
This Mothership functionality may be particularly relevant for corporations and organizations that have the need to deploy individual LMS sites for each of their own clients (each with their own branding), push curriculum to the newly deployed sites, report and manage Learning Outcomes/Objectives/Competencies, standardize curriculum, provide accountability in the form of reports and course content management, as well as other administrative functions. In this case, a single learning management system will not work to serve their clients. The flexibility provided with the Mothership Solution enables these corporations and organizations to deploy the client LMS sites with a simple click of a button and tailor each as needed.
The Mothership functionality was originally designed for districts and schools with multiple locations, significantly different populations and branding. District administrators can deploy the sub-sites, standardize curriculum, report across campuses, manage Learning Outcomes/Objectives/Competencies, and more - all from the Mothership rather than wasting time going into each sub-site to accomplish these tasks.
Managing several LMS sites without the Mothership would be intolerably challenging, but the Mothership solution is easy to use and makes management of districts or multiple LMS sites a breeze.